Plant Product Safety Services Division
Plant Product Safety Services Division
The Republic Act No. 10611 also known as Food Safety Act of 2013 mandates the Bureau of Plant Industry (BPI) as a Food Safety Regulatory Agency (FSRA) under the Department of Agriculture (DA).
The Plant Product Safety Services Division (PPSSD) under the BPI is tasked to undertake responsibilities relevant to food safety of fresh and minimally processed plant foods from primary production to post-harvest stages of the food supply chain.
Functions
Enforces food safety control on plant foods;
Intensifies the monitoring system of contaminants and pesticide residue to assure the supply of safe food for the consumers;
Provides laboratory services for microbiological examination, physico-chemical analysis, pesticide formulation and pesticide residue analysis; and
Coordinates with other local and international authorities on activities relevant to the functions of the Division.
Vision
PPSSD is an internationally recognized regulatory office in providing competent efficient and quality services responsive to the need of plant food stakeholders.
Mision
We ensure safe plant food from primary production to post harvest stages of the food supply chain through effective food control system and laboratory services.
Laboratory Services
Laboratory Services
Contaminants Laboratory Section (CLS)
Noreen D. Escobar, Section Head, Composed of Microbiology Unit and Chemical Unit, and is tasked to:
Microbiology Unit
Monitor chemical and microbiological contaminants and biotoxins
Chemistry Unit
Provide physico-chemical and microbiological analytical services for fresh and minimally processed agricultural produce
---
Pesticide Analytical Laboratory Section (PALS)
Sonny B. Conde, Section Head,Composed of Pesticide Residue Unit and Formulation Analysis Unit, both scopes are ISO/IEC 17025:2005 certified, tasked to:
Pesticide Residue Unit
Monitor pesticide residue level in locally produced and imported agricultural commodities
Formulation Analysis Unit
Provide analytical services for pesticide residues and formulation to various stakeholders
---
Satellite Pesticide Analytical Laboratory (SPAL)
Four (4) satellite pesticide analytical laboratories are tasked to monitor pesticide residue of local agricultural produce which are strategically located in
SPAL Baguio
Joy S. Calaunan, Section Head, SPAL Baguio (covers Regions I, II and Cordillera Autonomous Region (CAR)
SPAL Cebu
Bernadette A. Ibarra, Section Head, SPAL Cebu (covers Regions VI, VII and VIII)
SPAL Cagayan de Oro
Sherlita B. Olifernes, OIC-Section Head, SPAL Cagayan de Oro (covers Regions IX, X, Caraga)
SPAL Davao
Mary Grace A. Nacional, Section Head, SPAL Davao (covers Regions XI, XII and BARMM)
THE IMPLEMENTING RULES AND REGULATIONS OF REPUBLIC ACT NO. 10611, OTHERWISE KNOWN AS THE "FOOD SAFETY ACT OF 2013"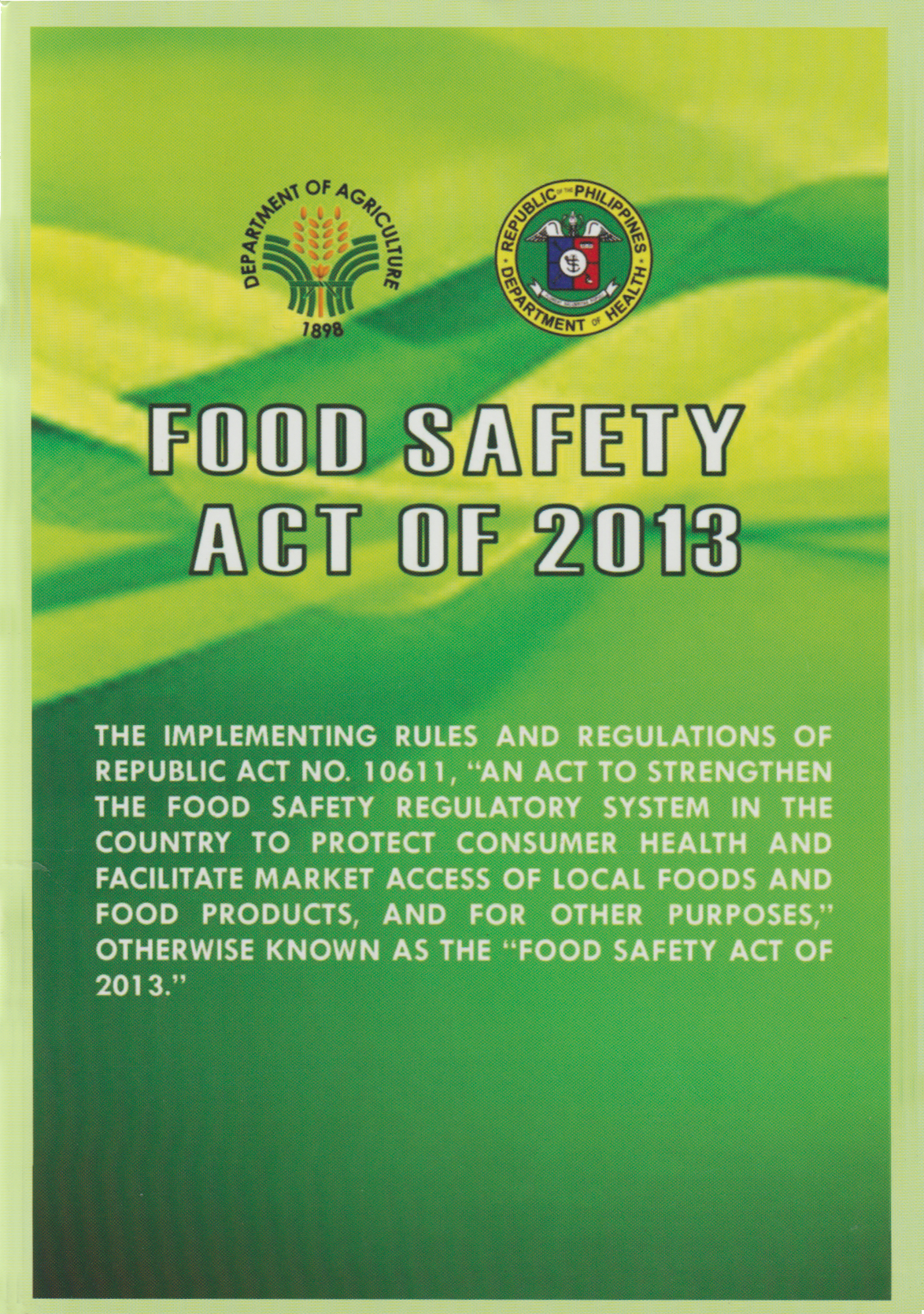 Download IRR of RA 10611
---
| Service | Form | Download Link |
| --- | --- | --- |
| Cold Storage Warehouse Licensing | BPI-QMS-PPSSD-F25 | Download |
| Application for License to Operate (LTO) | BPI-QMS-PPSSD-F32 | Download |
| Food Safety Compliance Officer | BPI-QMS-PPSSD-F37 | Download |
| Training Service Provider | BPI-QMS-PPSSD-F39 | Download |
| Service | Form | Download Link |
PhilGAP Promotional Video
---
CODE OF GOOD AGRICULTURAL PRACTICES (GAP) FOR FRUITS AND VEGETABLE FARMING / PNS/BAFS 49:2017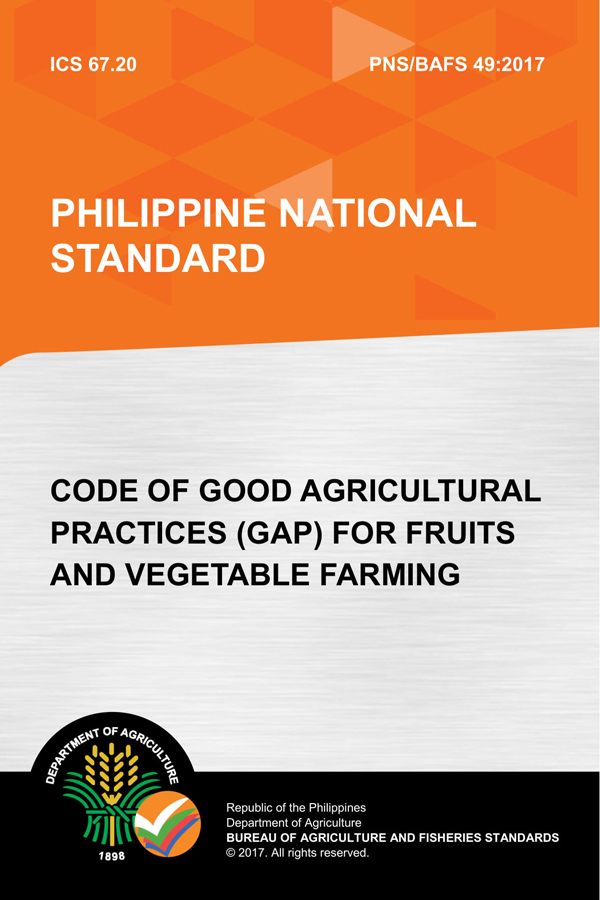 Download PNS - PhilGAP
Legal References
Legal References
Plant Product Safety Services Division's Legal References / Guidelines
Contact
Contact
Bureau of Plant Industry Central Office
---
PhilGAP Unit
philgap.bpi@gmail.com
8-524-0779
Risk Assessment Unit
fsrat.bpippssd@gmail.com
8-523-7154
Food Safety Unit
ais.bpippssd@gmail.com
8-524-0708
FSU - Baguio
bpi.ppssd.ais.fsu.baguio@gmail.com
0985-253-8931
FSU - Cebu
bpifsucebu@gmail.com
(032) 236 4744; 0917-112-7987
FSU - Cagayan De Oro
bpifsucdo@gmail.com
(088) 857-6550
FSU - Davao
spaldavaofsu@gmail.com
(082) 293 0220
---
---
---
Satellite Pesticide Analytical Laboratory